Nintendo sets release date for Wii U console - here are the specs

Thursday, 13 September 2012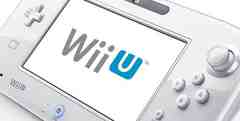 by Alice Monroe



Nintendo has set the pricing and release date for its next-generation games console, the Wii U

TOKYO, Japan -- Nintendo revealed details of the release plan for its latest next-generation "Wii U" games console on Thursday.

The Wii U will launch in two configurations in Japan on December 8:
Basic version: 8GB storage -- 26,250 Yen (US$330, GBP £210)
Premium version: 32GB storage -- 31,500 Yen (US$400, GBP £250)

Pricing for the new console is higher than that of competing products currently in the market, including Sony's PlayStation 3 and Microsoft's XBox 360.

The release schedule for the U.S. and Europe was set to be announced by Nintendo later on Thursday, and expectations were that it should be available in those territories before Christmas.

The new Wii U is set to replace Nintendo's Wii games console, and features a touchscreen controller which Nintendo claims would help "revolutionize" gaming.

Critics, however, have pointed out the controller's inability to recognize multiple fingers at the same time - a feature called "multi-touch" - as a limitation.

Online sources revealed a rumored specification for the Wii U which they expect will ship with a three-core IBM "Espresso" processor and an AMD Radeon graphics chip. The console is widely expected to have WiFi connectivity, HD output and four USB 2.0 ports.

Games launch titles will include a new version of Super Mario Bros and a game called Nintendo Land, which is intended to showcase the new console's abilities.
Source: Newsy.com - on September 10, 2012

New iPhone, rumored to be announced Wednesday, expected to feature bigger screen, slimmer body, and 4G LTE.
You Might Like
Other recent news in Entertainment
Twitter
Comments
comments powered by
•More original news reports from newsR