Justin Bieber angers London fans by performing two hours late

Tuesday, 5 March 2013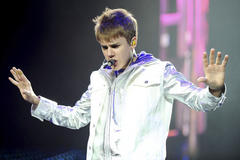 by Alice Monroe



Teen pop star Justin Bieber was greeted by boos from his fans when he arrived on stage at London's O2 Arena almost two hours late

LONDON, United Kingdom -- Justin Bieber upset thousands of his fans - and their parents - on the first night of his Believe tour at the O2 Arena in London on Monday night - by being nearly two hours late.

With doors opening at 6.30pm, fans were expecting the Canadian teen pop sensation to appear at 8.30pm. However, Bieber failed to start his performance until 10.30pm.

His fans, many of which are young children and teens with school in the morning, were left waiting with no explanation and many were forced to leave before he reached the stage, or very soon after.

He entered the stage to a chorus of boos, according to numerous twitter reports from angry parents.

Enraged fans could be the least of Bieber's problems however as he is reportedly set to face fines of $15,000 for every minute he goes over the arena curfew of 11 p.m.

He is due to perform a further three nights at the venue as part of his Believe tour.
Source: Splash News TV - on March 5, 2013

Justin Bieber is facing a backlash from fans after starting his sell-out gig at London's 02 Arena two hours late.
You Might Like
Other recent news in Entertainment
Twitter
Comments
comments powered by
•More original news reports from newsR