Google's new military-grade aerial mapping raises privacy concerns

Monday, 11 June 2012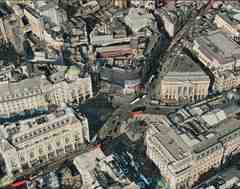 by Stephanie Boyd



U.S. technology giants Google and Apple are deploying aircraft to take highly detailed aerial photographs for their mapping services - a move which has raised privacy concerns

In a race to deploy 3D mapping services with unprecedented detail, U.S. technology giants Google and Apple are deploying high-tech planes equipped with military-grade imaging equipment to film cities with unprecedented detail.

According to a report by the Daily Mail published Monday, the imaging technology is similar to that used by intelligence agencies in identifying terrorist targets in Afghanistan, and can potentially see through skylights and windows and resolve objects just 4 inches in size.

The technology is being deployed aboard small aircraft flying at an altitude of 1,600 feet - low enough to take detailed photos, and high enough to leave people unaware that they are being photographed - often within the privacy of their garden.

To make the creation of high-definition 3D maps possible, aerial filming is carried out from several different angles. This practice inadvertently results in detailed footage of citizen's homes' interior being recorded through windows and skylights.

Consumer groups have voiced their concerns about the new mapping initiative.

Nick Pickles, director of Big Brother Watch – a UK-based campaign group for civil liberties and protecting privacy, was quoted by the Daily Mail as saying:

"The next generation of maps is taking us over the garden fence," he warned, "You won't be able to sunbathe in your garden without worrying about an Apple or Google plane buzzing overhead taking pictures."

Google is aiming to have high-resolution 3D mapping coverage of towns and cities with a combined population of more than 300 million by the end of this year, although the Internet giant has not revealed any specific locations so far.

Apple is expected to unveil its new competing mapping application for iPhone, iPad and other devices later on Monday.
You Might Like
Other recent news in Front Page
Twitter
Comments
comments powered by
•More original news reports from newsR