Sachin Pilot to represent India at Hugo Chavez's funeral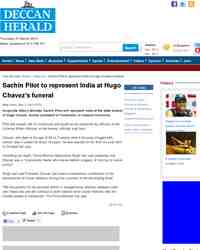 Thursday, 7 March 2013

*Corporate Affairs Minister Sachin Pilot will represent India at the state funeral of Hugo Chavez, former president of Venezuela, in Caracas tomorrow.*

Pilot has already left for Venezuela and would be accompanied by officials of the External Affairs Ministry at the funeral, officials said here.

Chavez, who died at the age...
Other recent news in Front Page
Twitter