Lakers vs. Clippers: Where to Watch Live Stream Online of Battle between L.A. Teams, Prediction, Preview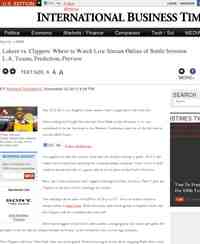 Friday, 2 November 2012

 

The 2012-2013 Los Angeles Lakers season wasn't supposed to start like this.

After trading for Dwight Howard and Steve Nash in the offseason, L.A. was considered to be the best team in the Western Conference, and one of the favorites to win the NBA Finals.

Two games into the new season, some fans are already starting to panic. At 0-2, the Lakers have looked like anything but a championship contender. They've yet to hold a lead in the second half of a game, and sit in last place in the Pacific Division.
You Might Like
Other recent news in Internet
Twitter
Comments
comments powered by