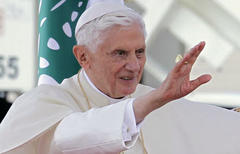 by Stephanie Boyd



Pope Benedict XVI held his final general audience before stepping down - recalling moments of "joy and light" but also "difficult moments" during his papacy

VATICAN CITY -- An estimated crowd of 150,000 worshippers and well-wishers filled St Peter's square in the Vatican on Wednesday morning to witness an emotional sendoff at the final audience of Pope Benedict XVI.

The Pope is due to retire on Thursday, making him the first pontiff to do so in six centuries.

In an emotional address, Benedict XVI promised that he would continue to serve the Church through prayer, following his eight years at the helm of the Roman Catholic Church.

Offering an explanation of his resignation, he said he was standing down for the good of the Church.

"Loving the church means knowing how to make hard and difficult choices with the good of the church, and not oneself, in first place," he said.

Calling on Christians to feel joy and live a life that's "coherent" with their beliefs, he said he'd decided to resign for "the Church's good," the Pope explained.

In his retirement, the Pope will be known as "emeritus pope" and will continue to wear a white cassock, the Vatican confirmed.

His successor is set to be determined by the vote of 115 cardinals who will meet in secret. The Vatican hopes, that with some slight rule-bending on the minimum duration the cardinals need to confer in conclave before make a selection - due to the unusual circumstance of the papal resignation - the new pope could be chosen more rapidly.

A successful election of the new pope - indicated by white smoke rising from the Sistine Chapel - taking place before March 15 should allow the newly-elected pontiff enough time to prepare for Palm Sunday celebrations on March 24.
Source: Newsy.com - on February 26, 2013

Pope Benedict's last day is nearing, but the investigation revolving around his former butler will remain a secret.
You Might Like
Other recent news in Religion
Twitter
Comments
comments powered by
•More original news reports from newsR