Orange Cap IPL 2013: Who will be leading run scorer?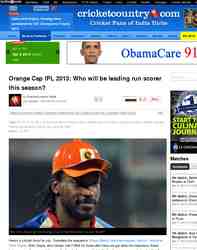 Friday, 5 April 2013

Here's a cricket trivia for you. Complete the sequence: Shaun Marsh, Matthew Hayden, Sachin Tendulkar, Chris Gayle, Chris Gayle, who follows next? Well for those who have not got what the sequence- these batsmen won the coveted 'Orange Cap' – which is awarded to the leading run scorers during the first five seasons of the Indian Premier League (IPL). So who do you think will be the Orange Cap holder in IPL 2013?
You Might Like
Other recent news in Sports
Twitter
Comments
comments powered by