Space shuttle Endeavour commences final journey into retirement

Wednesday, 19 September 2012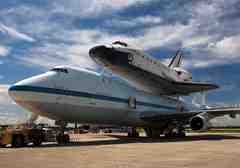 by Alice Monroe



Space shuttle Endeavour lifted off for its final journey on Wednesday, piggybacked on a modified Boeing 747 jumbo jet. Endeavour is scheduled to arrive in Los Angeles on Friday, destined for display at the California Science Center.

CAPE CANAVERAL, FL -- NASA's space shuttle Endeavour departed from Kennedy Space Center at sunrise on Wednesday, firmly bolted to the top of a Boeing 747 jumbo jet.

Catching a piggyback ride, the shuttle was set to perform low-level flybys at NASA facilities along Florida's Space Coast, including Kennedy, the Kennedy Space Center Visitor Complex, Cape Canaveral Air Force Station and Patrick Air Force Base.

The flight will then take NASA's youngest space shuttle westwards to fly across the Stennis Space Center in Mississippi and the Michoud Assembly Facility in New Orleans.

Wednesday's leg of Endeavour's retirement flight will see the shuttle fly over the Houston area before arriving at Ellington Field near NASA's Johnson Space Center at around 10.45am CDT (11.45am EDT, 3.45pm GMT).

The final journey continues on Thursday with a refuelling stop at Biggs Army Airfield in El Paso, Texas, and a flight destined for Dryden Flight Research Center at Edwards Air Force Base, California with low-level flyovers at the White Sands Test Facility near Las Cruces, New Mexico.

On Friday, the shuttle is scheduled to perform a low-level flyby at multiple cities of Northern California including Sacramento and San Francisco before arriving at LAX in Los Angeles, giving the public one last chance to see the winged spaceplane in flight.

Endeavour is set to go on display at the California Science Center from the end of October.
Source: IBTimes.com - on September 21, 2012
The space shuttle Endeavour toured Southern California and arrived in Los Angeles on its final journey before taking up residence at the California Science Center. After making low-altitude passes over some of California's best-known landmarks, including Disneyland, the Hollywood sign and the Jet...
You Might Like
Other recent news in US
Twitter
Comments
comments powered by
•More original news reports from newsR