Air New Zealand pilot controlling a Boeing 777 falls asleep mid-flight - TWICE

Friday, 1 March 2013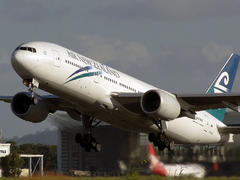 by Alice Monroe



An Air New Zealand pilot fell asleep twice at the controls of a Boeing 777 mid-flight, the airline confirmed

WELLINGTON, New Zealand -- A pilot fell into sudden deep sleep at two occasions during a transatlantic flight from London to Los Angeles last year, Air New Zealand confirmed.

The pilot admitted he nodded off twice whilst in charge of a Boeing 777 passenger plane. He blamed poor sleep during his London stopover the night before as causing him fatigue.

In a fatigue report voluntarily submitted to the New Zealand Civil Authority, the pilot said: "I suddenly, and without any warning, fell into a deep sleep on the flight deck. The same event occurred twice."

Air New Zealand said in a statement: "During the cruise phase of the flight one of the two operating pilots nodded off twice for around a minute and woke spontaneously."

"The other operating pilot on the flight deck was aware of this and safety was not compromised at any point."

The airline said there would be no disciplinary action against the pilot as this would discourage reports of fatigue incidents.

However, New Zealand transport minister Gerry Brownlee told the airline that the report "doesn't look good" for Air New Zealand, citing "big reputational issues".
You Might Like
Other recent news in World
Twitter
Comments
comments powered by
•More original news reports from newsR