Worldcrunch.com / SYRIA DEEPLY *ATMA* — Abu Mahmoud, a 67-year-old from Aleppo's Maret al-Numan, is attempting to preserve his family's profession despite the hardships of war. A mosaic artist, he..
Worldcrunch 13 hours ago

Turkish Foreign Minister Ahmet Davutoglu said on Monday that Turkey was facilitating the passage of Iraqi Kurdish peshmerga fighters to Kobani to aid Syrian Kurds defending the town against Islamic..
IndiaVision 2 days ago

Syrian rebel fighters backed by the West have told the BBC that the US-led coalition faces a backlash in their country over its bombing campaign against Islamic State (IS). There have been protests..
IndiaVision 4 days ago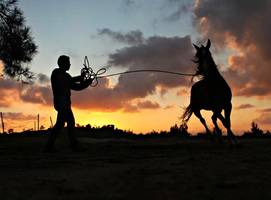 Worldcrunch.com / WHILE YOU SLEPT Friday, October 17, 2014 *EBOLA: A CZAR, LOW DONATIONS, MORE TROOPS* United Nations Secretary General Ban Ki-moon launched an urgent donations appeal in the..
Worldcrunch 5 days ago
Search this site and the web: