Kupwara
Town MCK in Jammu and Kashmir, India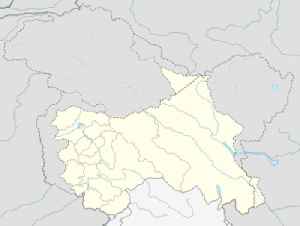 Kupwara is a town and a municipal committee in Kupwara District in the Indian Union territory of Jammu and Kashmir.


One jawan martyred, three missing as avalanche hits Army post in Kupwara
A search and rescue operation has been launched to find out the missing personnel.
DNA - Published
J&K: One civilian killed, three injured in cross-border shelling by Pakistan in Kupwara
Civilians have, unfortunately, been dying on a daily basis in Jammu and Kashmir for the past few days, the victim of terror attacks and now, cross-border shelling by Pakistan.
DNA - Published
Pak violates ceasefire in Kupwara, homes damaged
IndiaTimes - Published
J&K: Pakistan forces targeting civilian areas to inflict heavy damages
In the violations done by the Pakistan Army earlier in the day, a civilian was killed while three others were injured in the Tangdhara sector of Kupwara. Heavy shelling by the Pakistan forces in the..
IndiaTimes - Published
Pak violates ceasefire, two soldiers, civilian killed in Kupwara
Two soldiers and a civilian were killed as Pakistani troops violated the ceasefire in Tanghar sector of Jammu and Kashmir's Kupwara district on Sunday, police said. Three civilians were also injured in..
IndiaTimes - Published
BSF foils infiltration bid in Kupwara, elite commandos airdropped in Ganderbal to neutralise terrorists
The Indian army airdropped elite commandos in the forests of Gangabal as the trek is 4 to 5 hours from the last accessible road
DNA - Published
Jammu and Kashmir: Another civilian hurt in 2nd stone pelting incident in Kupwara
On August 25, a truck driver identified as Noor Mohammed Dar, got seriously injured in a stone-pelting incident in Bhijbhera area and later succumbed to his injuries.
DNA - Published
J&K youths undergo skill development
Free coaching is being provided to students at this skill development centre in Kupwara for computers, customer care and retail sales
DNA - Published
Kupwara wants progress and peace
Citizens in Langet constituency of the district are filled with optimism following removal of J&K's special status
DNA - Published
You Might Like